"A lot of environments today throw everyone into the same general space and say 'collaborate.' And, we're surprised when it doesn't work and people feel frustrated. Teams do not have the control they need to move easily from activity to activity. They don't have the ability to reconfigure their space at will if their team make-up, needs or priorities change."
Creative studio
Teams practicing design thinking deeply immerse themselves with a problem to develop empathy and an understanding of the customer. They must surround themselves with their information and look for patterns that will point to new needs. They work together to build on each other's ideas and break apart to analyze, synthesize and generate a fresh point of view to bring back to the team. Steelcase Flex Collection supports their ebb and flow between individual work and teamwork.
Visual displays help this magazine design team pitch and share an upcoming layout to their leader. The Steelcase Flex Board Cart lets the team bring the collection's markerboards anywhere and the wall rail and stand support visual displays.
The team rolls together four standing-height tables to create one large worksurface for a design thinking workshop. Surrounded by their information and ideas, they are able to quickly jump into flow.
Freestanding screens create separation from the team, allowing individuals to focus and attend to their personal needs.
Fuel ideas with a space created to encourage participation for a productive brainstorming session. Slim tables (center) support a standing posture and the team cart (right) includes clips to hold a markerboard or screen as well as group necessities, such as sticky notes, dry erase markers, paperclips, in the baskets made to fit underneath the display.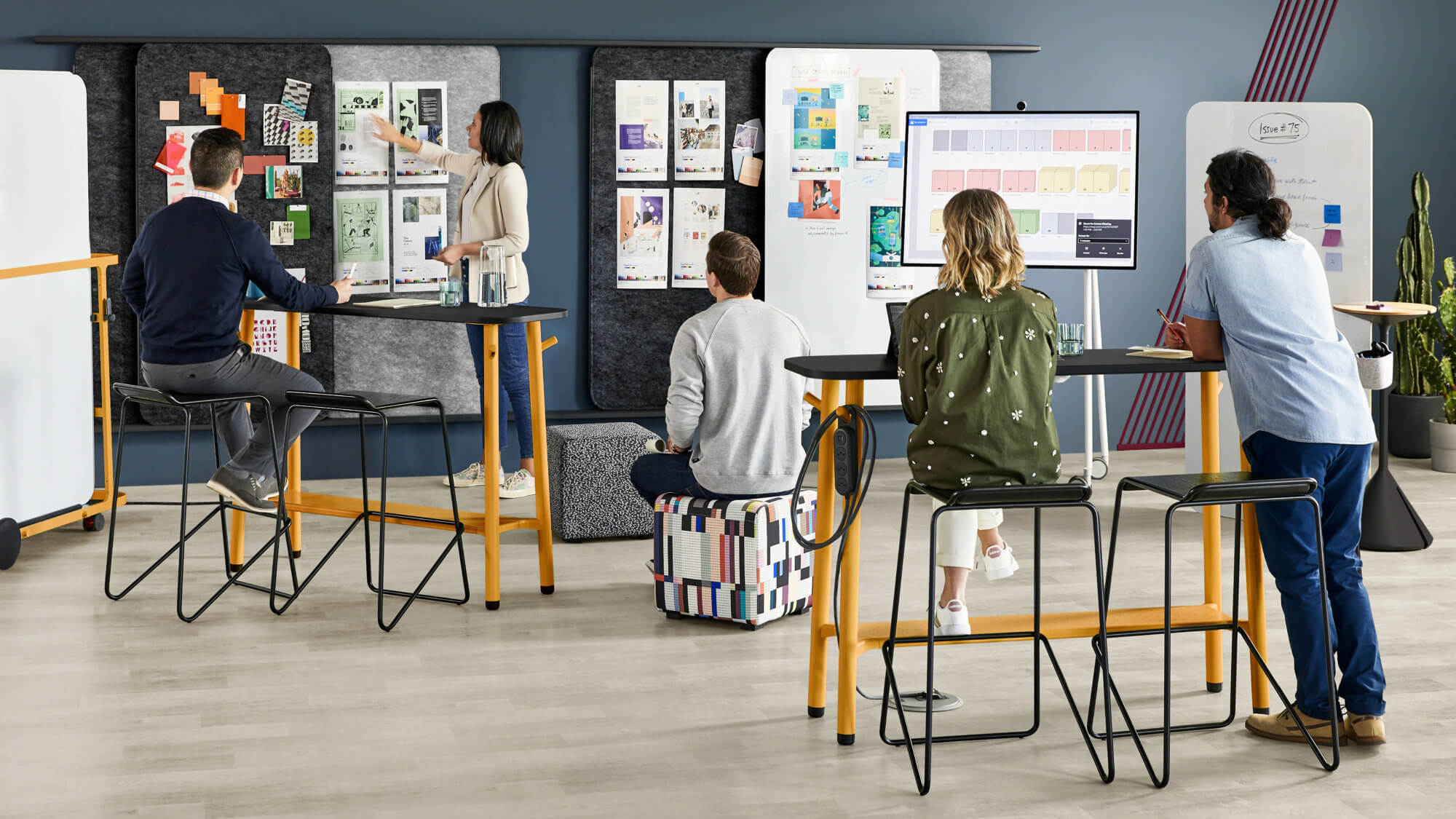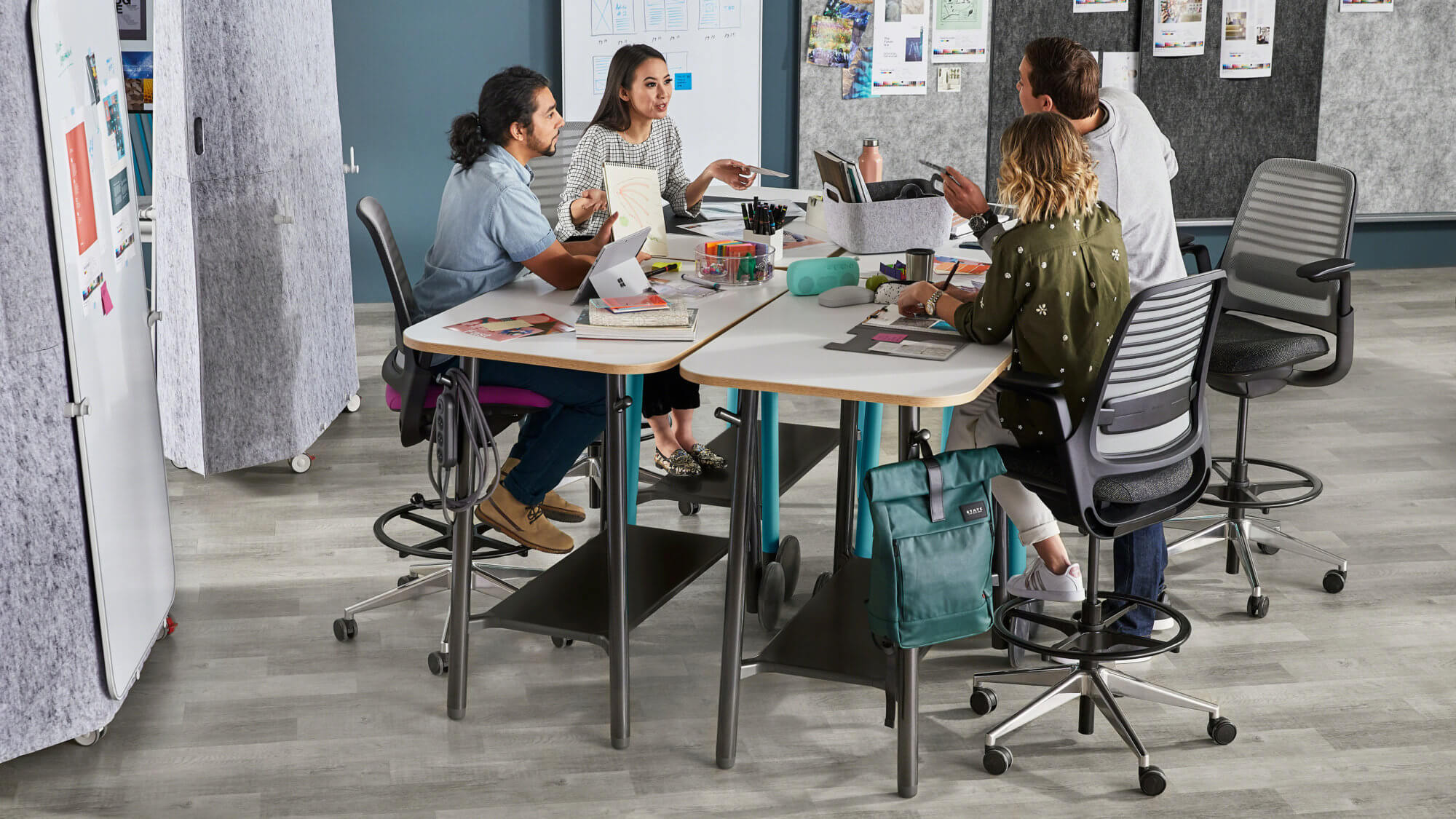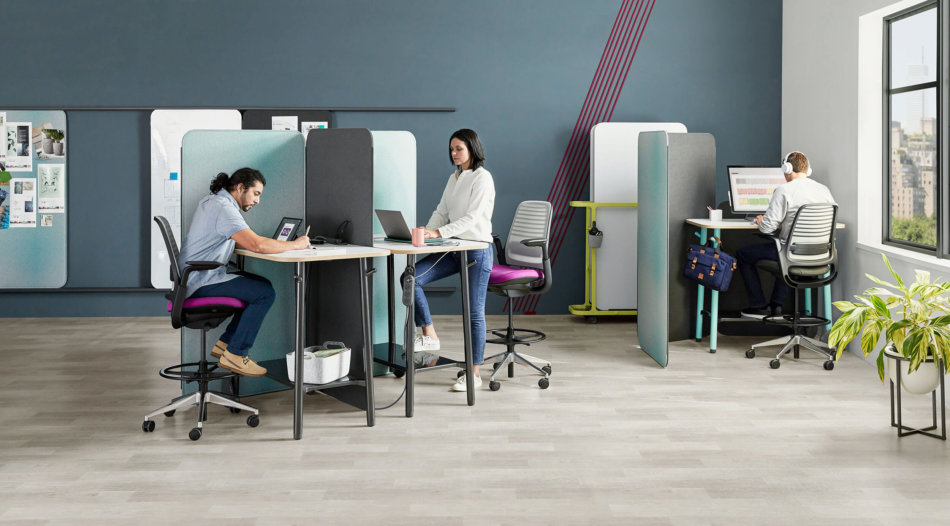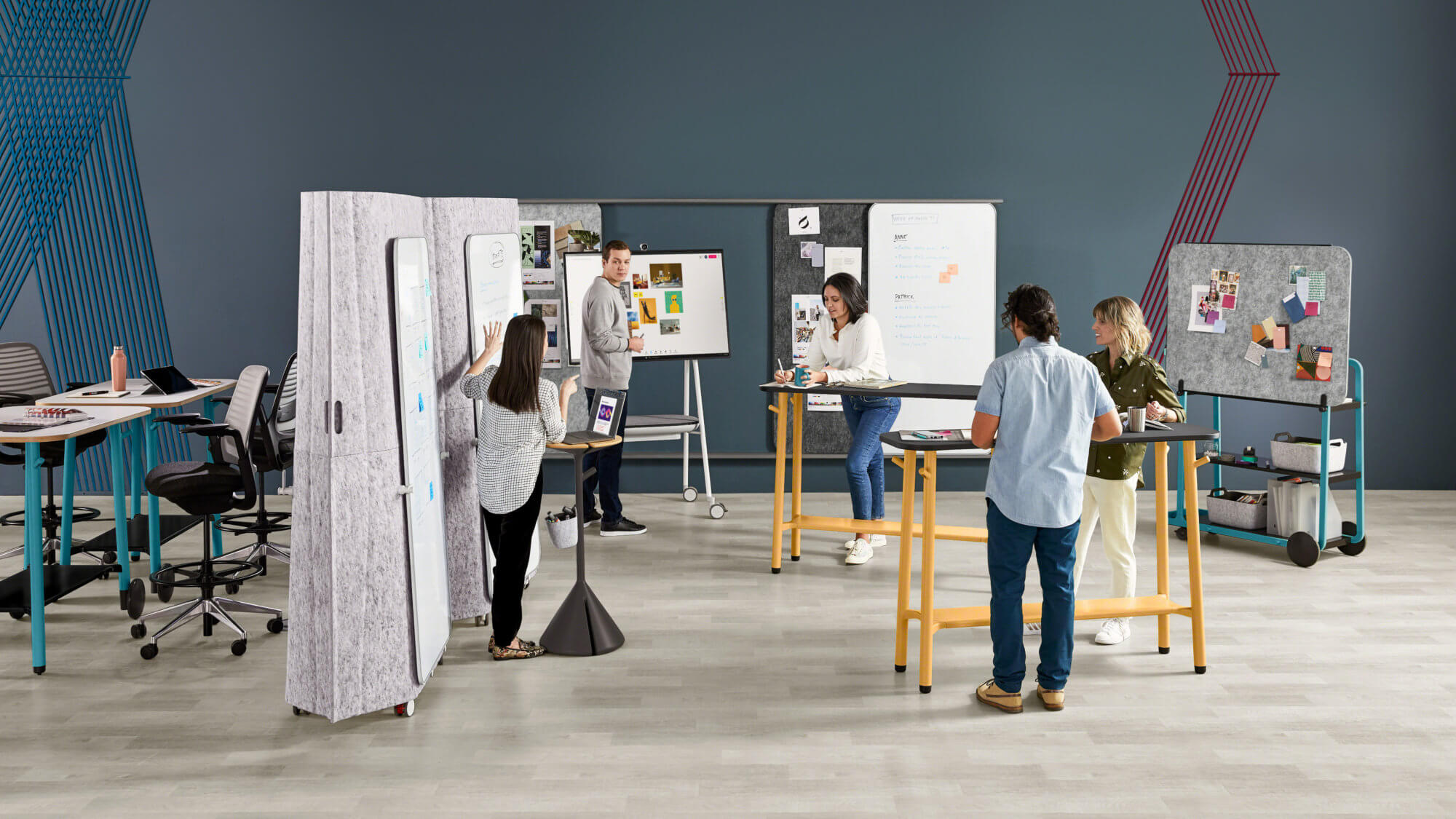 Agile studio
Agile teams are guided by a set of ceremonies that celebrate their process and keep them and connected to their customer's needs. The agile approach to problem solving involves a lot of individual work that connects back to the team as a whole—crucial to advancing a project. Steelcase Flex Collection lets the team transition from collective to pair to solo work without disrupting their workflow.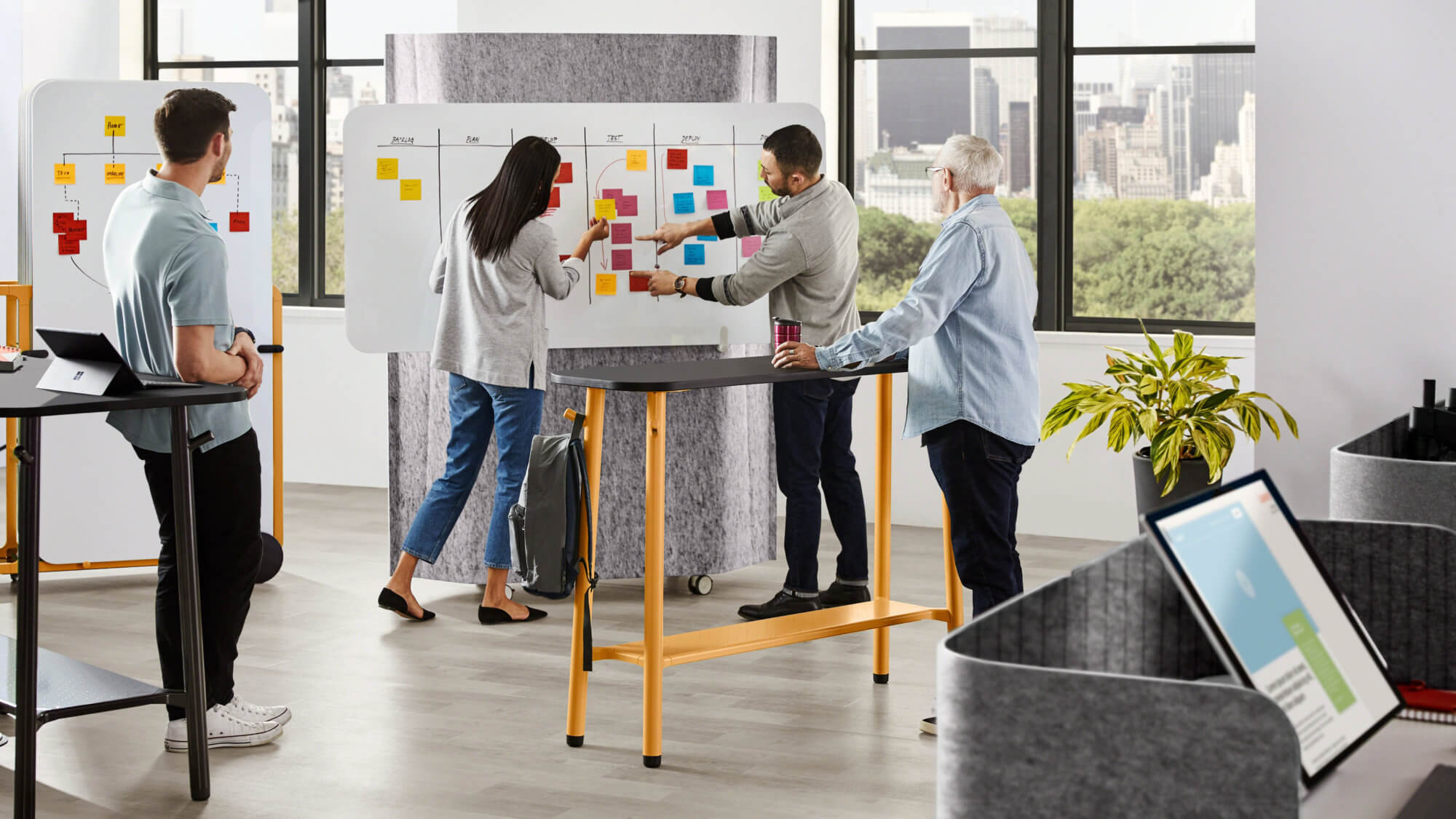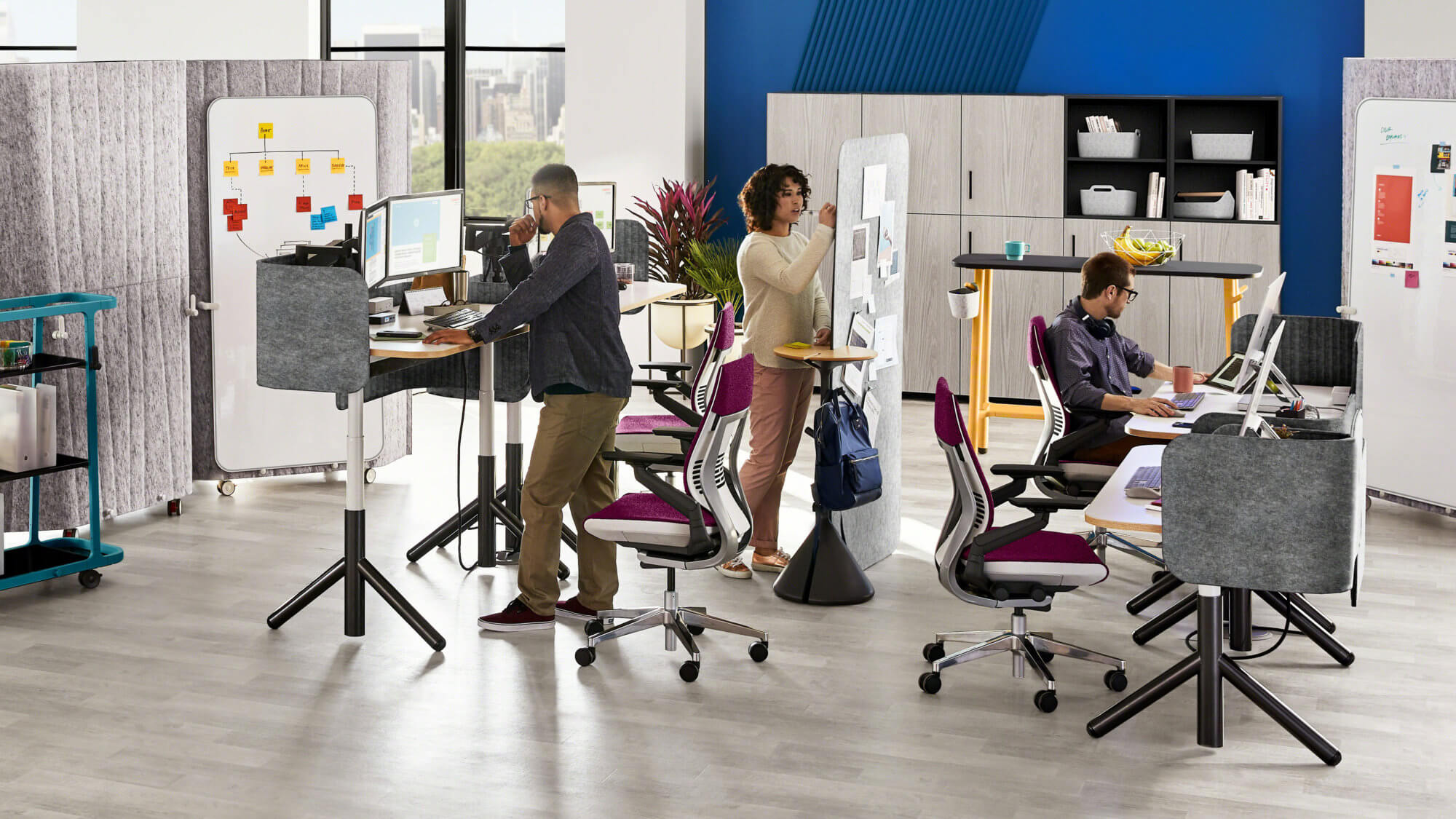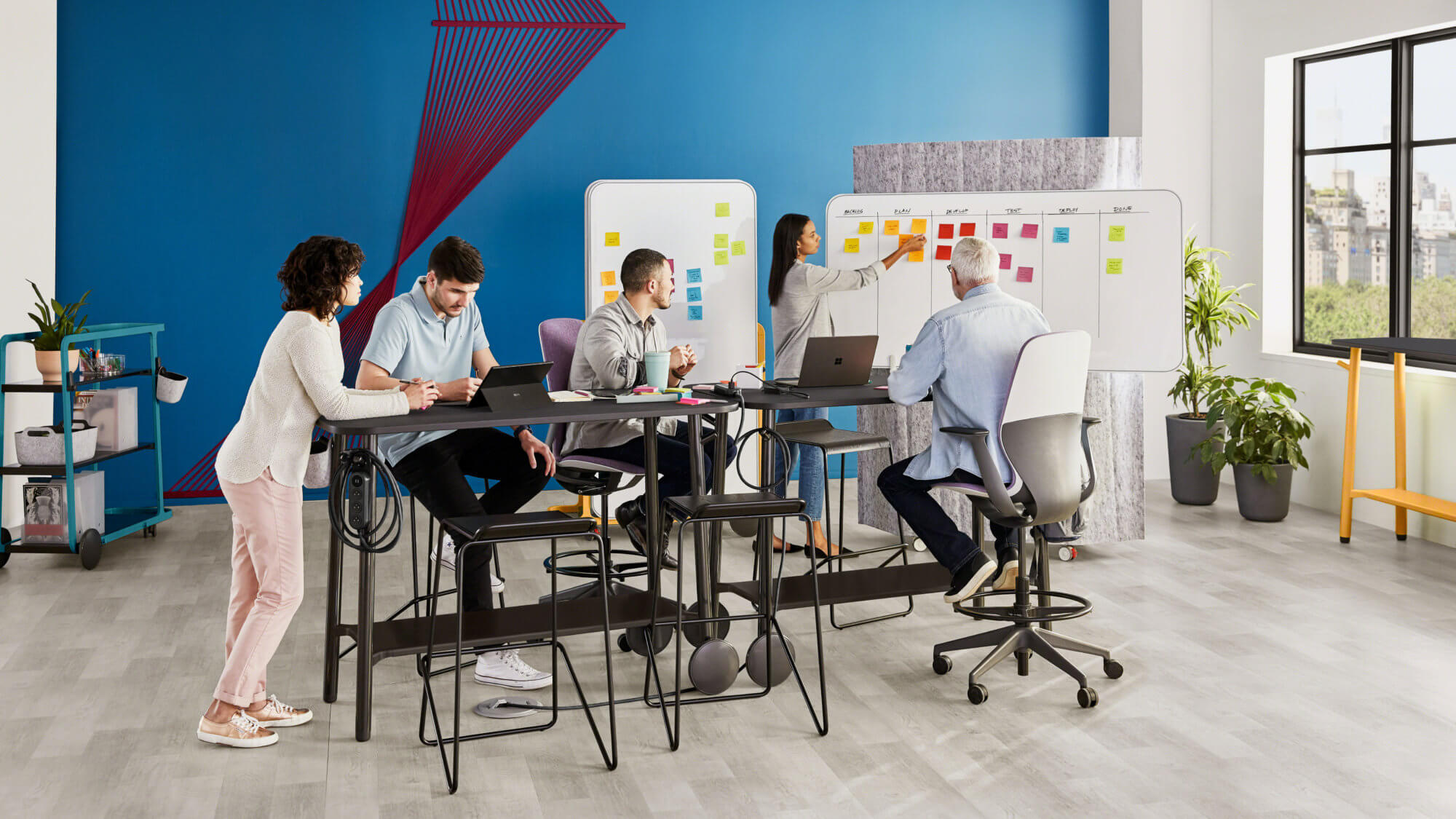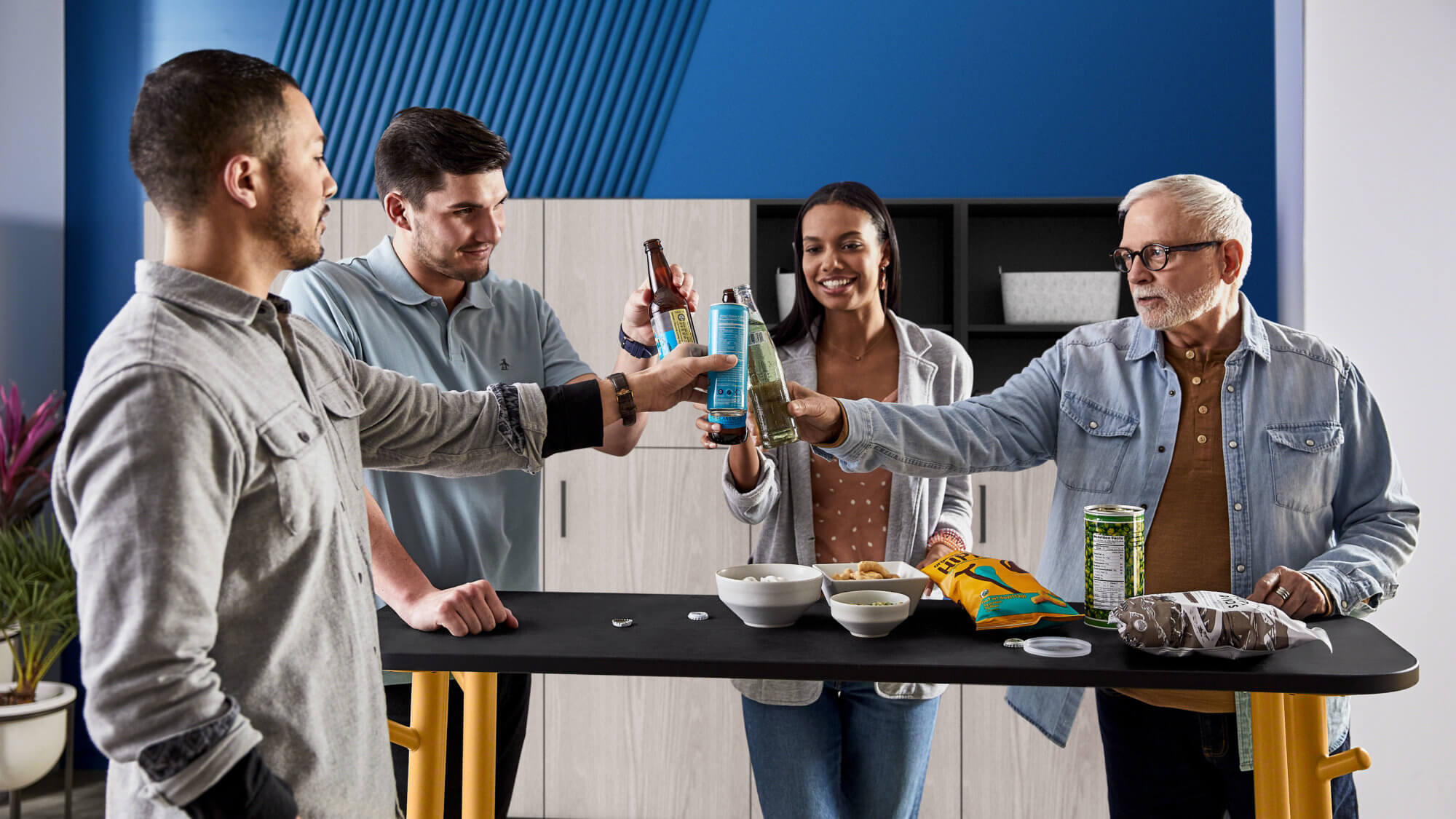 This agile team gathers around the Steelcase Flex Slim Table for its daily stand-up, a quick directional meeting that lasts 15 minutes. The acoustic boundary includes integrated clips to attach the collection's markerboards either horizontally or vertically.
Height-adjustable desks with directional rollers let team members slide side-by-side for pair programming and pull apart when it's time to focus. Integrated power hosts up to seven plugs with just one cord out, simplifying any move. Screens can be adjusted to privacy or modesty mode, depending on preference.
The team brings two standing-height tables together for a sprint review to review progress with their customer. The acoustic boundary integrates a markerboard to help display information and bring people up to speed quickly.
At the end of their sprint, the team celebrates around a slim table. Gathering together builds team cohesion and trust.
To know everything about tomorrow's world of work, we strongly recommend the ultra-documented reading, the 306° magazine of our partner Steelcase!
Discover more information on the Flex Collection product page!