We spend a huge amount of time at the place where we work. So, that being the case, we really need to feel good when we are there. Everyone agrees that psychological wellbeing has an impact on individual and collective performance. Which is why, at the request of BAM Contractors, Alternativ took on the assignment to turn the company's reception area into a bustling, pleasant and inspiring place.
The BAM offices are located in Neder-Over-Heembeek. They are home to BAM Belgium, BAM Contractors (one of the biggest construction companies in Belgium), Kairos (a major player on the Belgian property market) and BAM PPP (which operates in all phases of public-private cooperation projects).
This means that there are various different business sectors operating in the same building. The company has almost 1700 employees.
Like most companies, the reception area at BAM is the first point of contact for visitors.
What did it look like before? A reception desk in a large atrium that looked like how you would imagine a law court to be.
At least, that's how it used to be! Because since Alternativ worked its magic, the atrium has been given a whole new lease of life.
Véronique Van Den Berghe, Facility Manager at BAM Contractors, relates how a small project became a major building site: "To begin with, we wanted to freshen up the reception area, which was like a lost corner of an enormous open space….. But as we progressed, the project ended up as a full-blown renovation of the ground floor and the visual integration of the other floors. Now that it's over, both staff and customers are able to operate in a serene and elegant environment that is made up of various ingeniously designed workspaces. "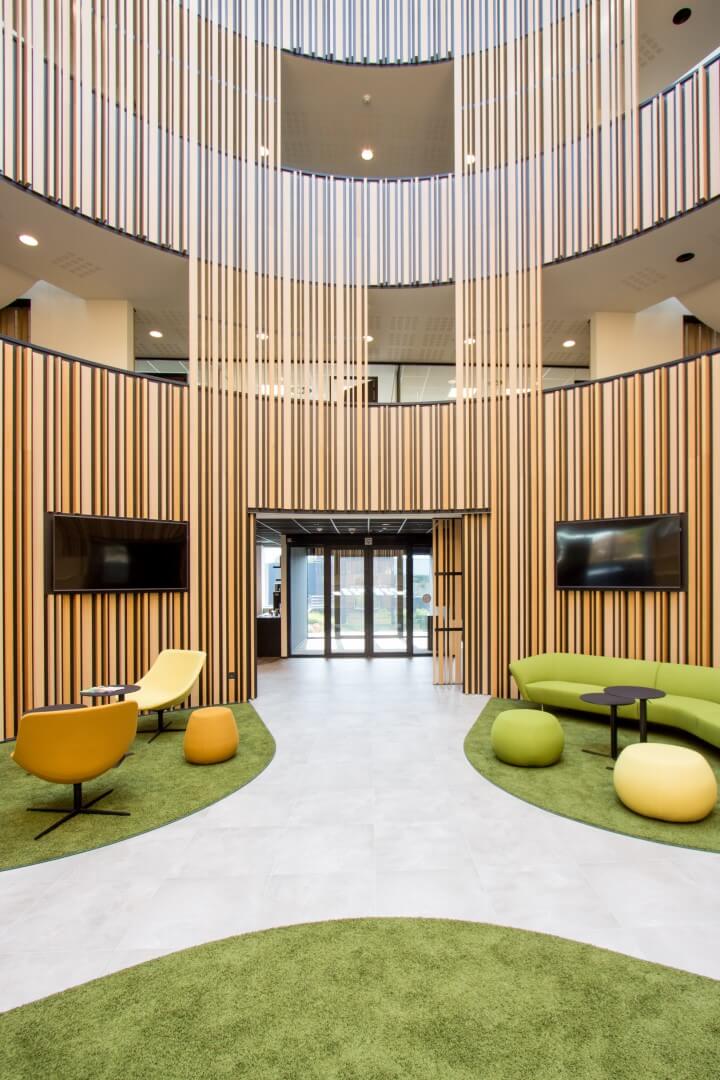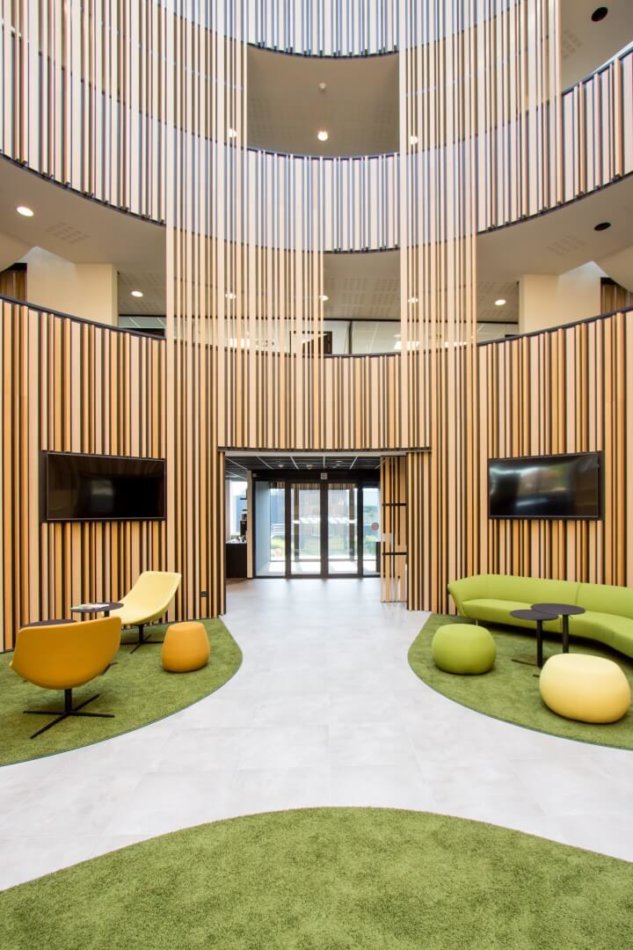 The reception area, which occupied the centre section of the ground floor, has become a multifunctional area, complete with lounge corner, spaces with more privacy and benches designed in the shape of a raised dais for group presentations. The remaining section of the ground floor has been redesigned really attractively, with a brasserie-style coffee corner featuring power outlets for devices and WiFi. In addition, there is also a business centre with various meeting rooms.
This complete transformation has turned the whole ground floor level into a genuine meeting place: every square centimetre has been put to good use, with separate areas to have a chat, relax and, of course, work.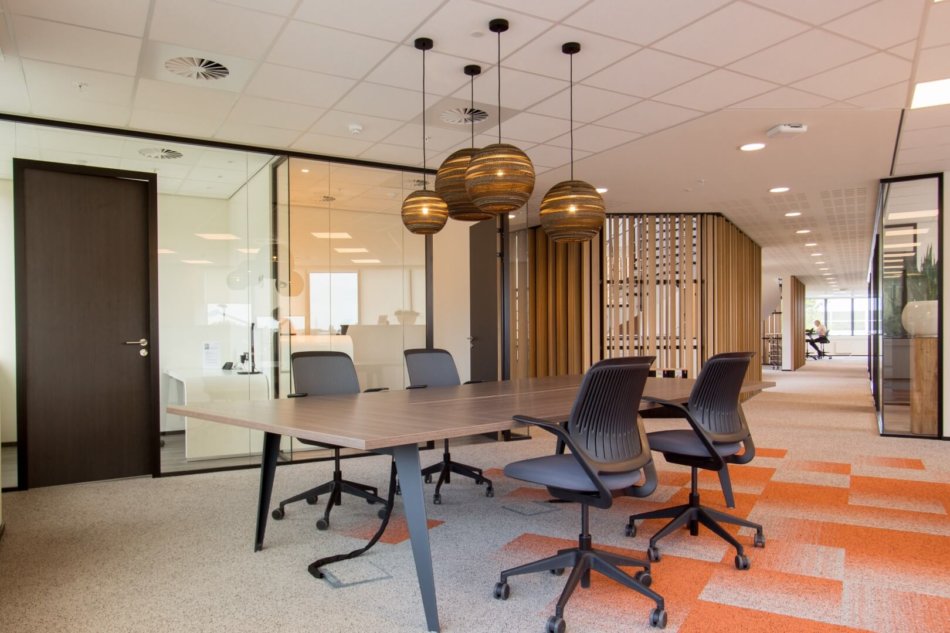 Tree of Life
How has the central part of the atrium been decorated?
"Everyone immediately thought the idea of the Tree of Life, the symbol of life and communication (like the palaver tree in Africa), made up of vertical wooden slats, was a great one," enthuses Véronique Van Den Berghe.
In particular, this central element of the ground floor opens up a lovely perspective of the building's two levels, inviting the eye to look higher and see beyond, enclosing a lounge corner complete with screen and an integrated bench in the shape of a raised dais, giving it a really cosy touch.
In short, the atrium with its Tree of Life is the hotspot of the whole BAM premises.
Véronique Van Den Berghe is very happy with everything and praises the way Alternativ kept the project coherent and on track. "An area without any soul has been transformed into a living space that is warm, visually inspiring, graphically consistent and multifunctional (lounge corner, work café, meeting rooms, raised podium, etc.) and that visitors and staff can use as they wish. This project would not have been possible without the responsiveness, razor-sharp insight and professionalism of Alternativ. From sprucing up a tired space to achieving a total transformation, this has been an amazingly successful project!"