Nowadays, designing a culture of collaboration at work is essential to increase the ideation, innovation, employees' skills, and remote teams' efficiency.
It's why Steelcase and Microsoft have been working together since 2017 to explore how a thoughtfully-designed ecosystem of places and devices can support the new ways teams and individuals are working.
They work together with a shared commitment to put people at the center of how place and technology intersect and empower individuals and teams to do their best work.
But this culture of collaboration cannot be created alone! By using flexible workspaces and the right technology, you will offer to your teams an unprecedented level of control and freedom over how they collaborate.
For this purpose, Microsoft launched its next generation all-in-one collaboration device built for teamwork: Surface Hub 2S. And Steelcase worked with them to develop Steelcase Roam, a mobile stand and easy-to-hang wall mounting system designed for the Surface Hub 2S .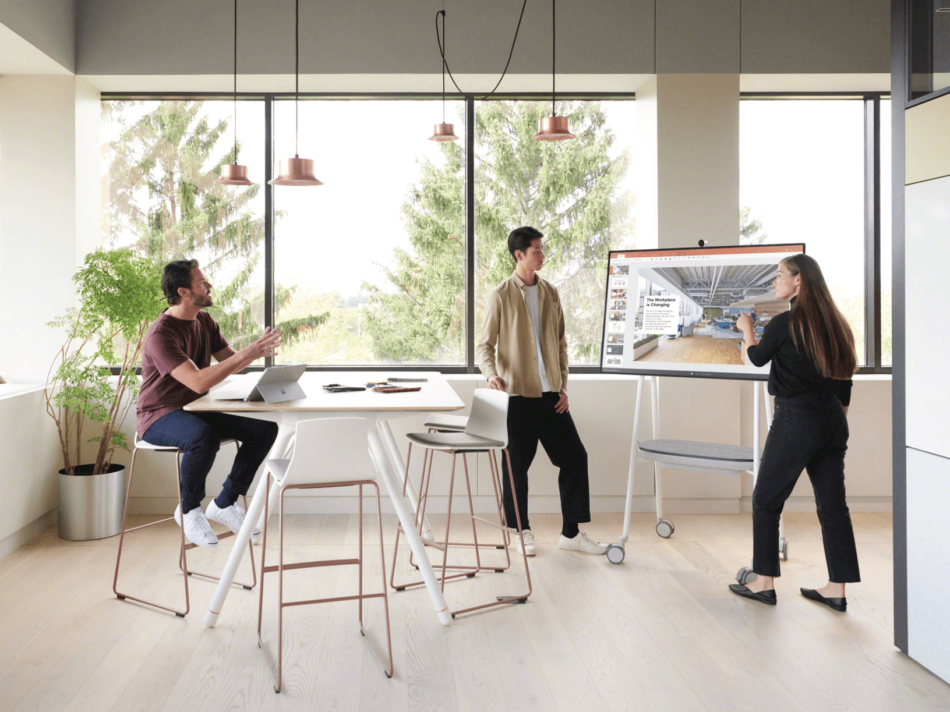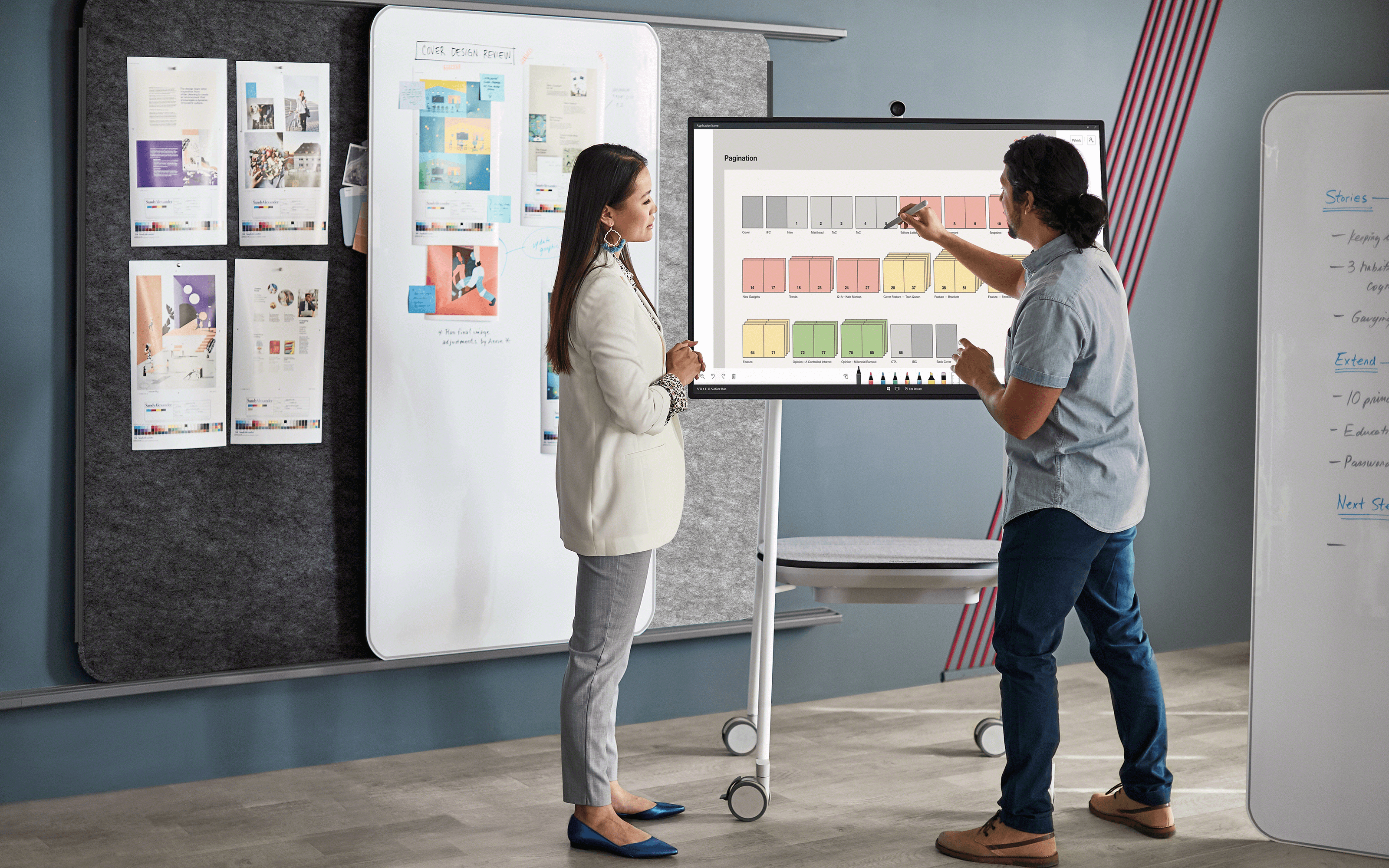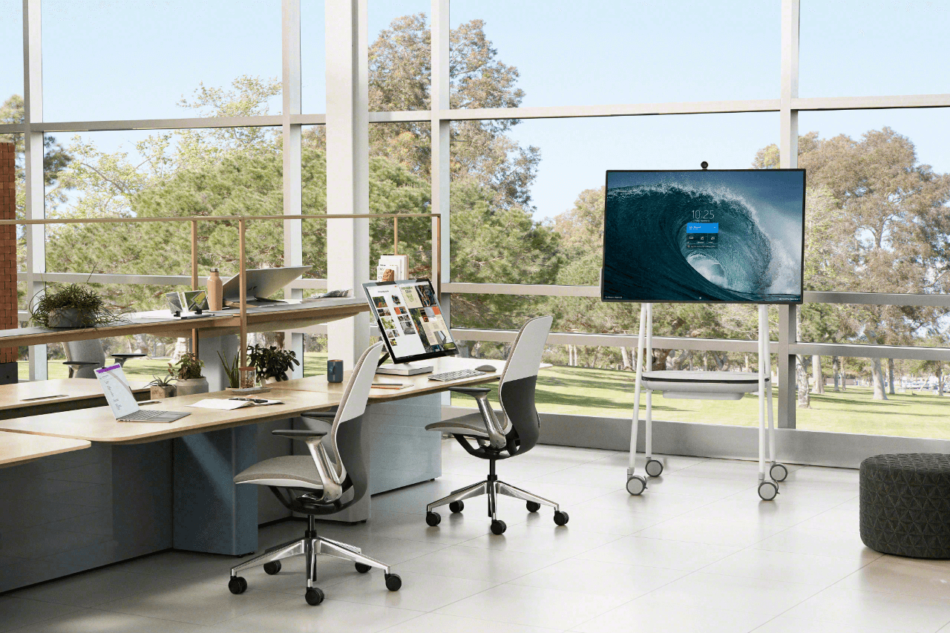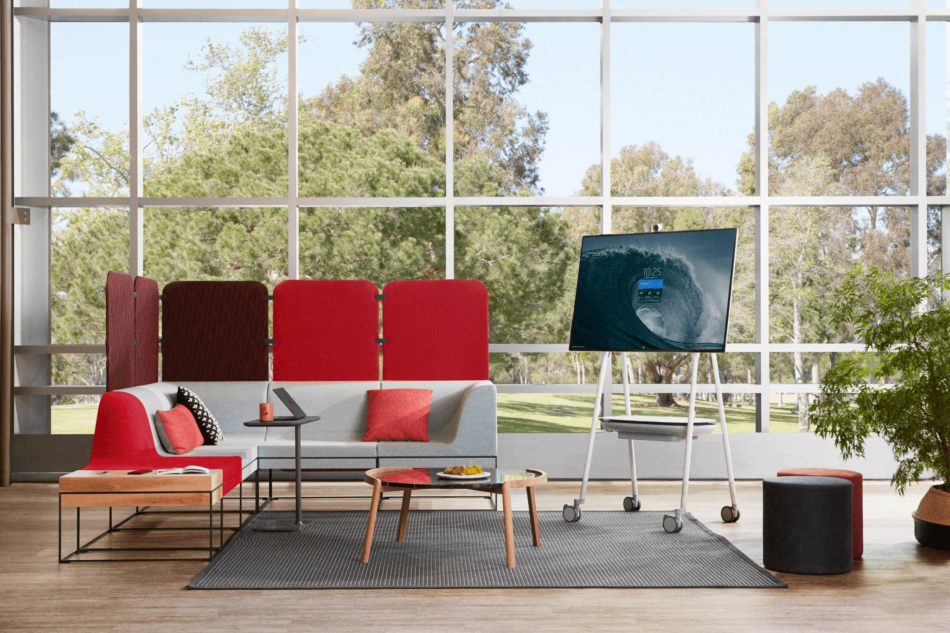 Surface Hub 2S
Teamwork without boundaries
Enable teamwork anywhere with new Surface Hub 2S, an all-in-one digital whiteboard, meetings platform, and collaborative computing device that brings the power of Windows 10 to teamwork. All-in-one Surface Hub 2S natively runs your must-have Microsoft apps, including Microsoft Edge and Office,2 and your essential business apps. Incredibly high resolution and amazing graphics performance deliver vibrant, crisp, and clear images and video on the thin, light 50" display.
Make any place a teamwork space
Thin and sleek, Surface Hub 2S integrates into any workspace. From conference rooms to open spaces, go wherever ideas strike with the mobile stand and battery.
Bring remote teams together
Everyone is seen, heard, and can actively participate with 4K Surface Hub 2 Camera, far-field mics, crystal-clear speakers, and a brilliant, 4K+ resolution screen.
Move beyond meetings to true team flow
Brainstorm together in Microsoft Whiteboard, and collaborate across devices. Project wirelessly to share content with Miracast, and sign in to access Office 365 files.
Steelcase Roam
This system, co-developed with Microsoft for Surface Hub 2, consists of a mobile bracket and an easy-to-install wall mount.
Steelcase Roam's sleek, approachable design and total flexibility empower teamwork to happen wherever ideas strike: anytime, anywhere, any way.
Roam Where You Want To
It transforms each space into a collaborative studio.
Innovative mobility
Roam moves easily on smooth rolling casters for easy on-the-go transitions throughout a workspace, from a conference room to private office to casual spaces and beyond. With a storage tray and cord management designed to hold an optional APC™ Charge battery for untethered use.
Approachable design
With a minimal design, Roam integrates seamlessly into any workspace. The stand is a familiar easel-style design, making it stylish and approachable for collaboration anywhere.
Roam in smaller spaces
Steelcase Roam™ is an easy-to-install wall mount created for the Surface Hub 2, giving teams the freedom to collaborate any way. The wall mount makes any space more flexible, from smaller huddle spaces and conference rooms to private offices. Roam's approachable design and total flexibility empower teamwork to happen wherever ideas do: anytime, anywhere, any way.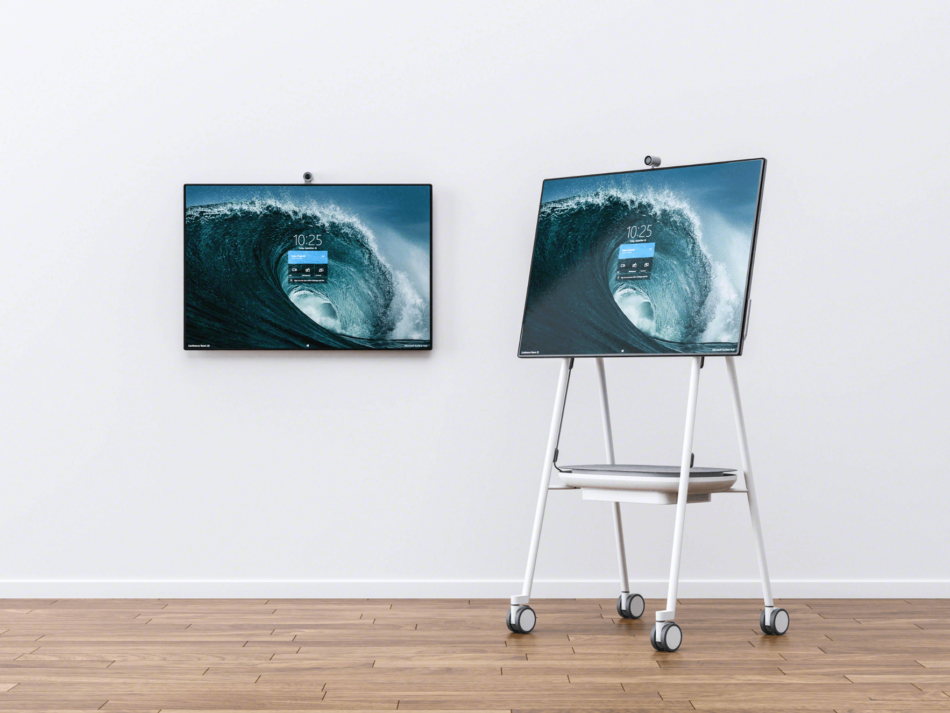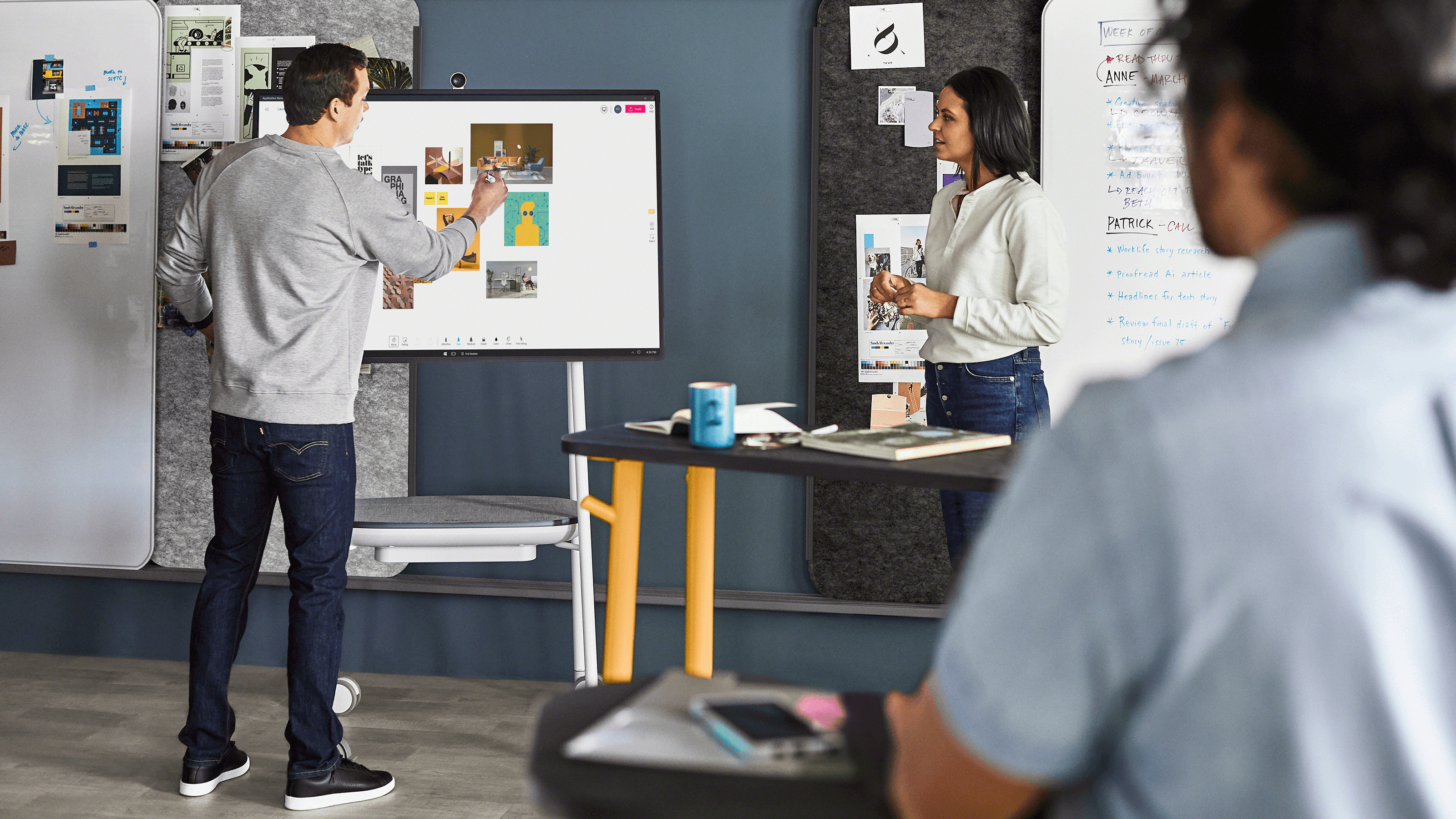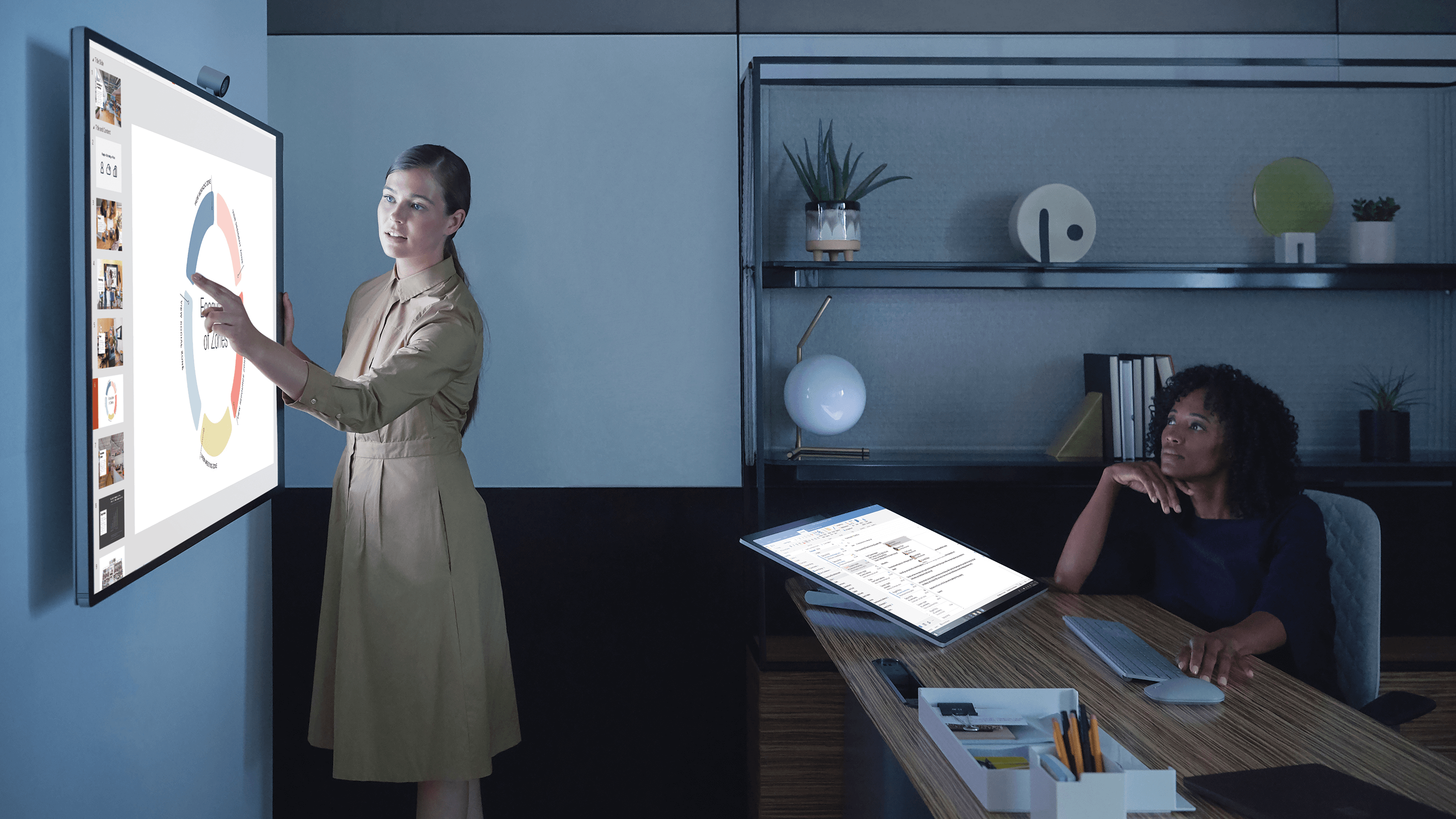 To know everything about tomorrow's world of work, we strongly recommend the ultra-documented reading, the 306° magazine of our partner Steelcase!