Lexitech_
2020 - 320 m2 - Design & Build
A building site and an unwanted intruder, but still the same boundless energy!
In the old days, The Lexitech offices looked a bit like a set from Mad Men; today, though, they boast 320 square metres of cutting-edge office accommodation. Yes, the Lexitech translation agency has nothing but praise after working with Alternativ – despite the intrusion into the project of a guest nobody was expecting (or wanted): Covid-19!
Established back in 1976, Lexitech was purchased in 2015 by the former banker, Geert Vanderhaeghe, who is now both owner and General Manager.
Lexitech, which specialises in translating technical documents, intends gradually to expand its range of services to capitalise on the great work of its twelve staff in providing multi-language translations, as well as technologies and total solutions for managing and disseminating content aimed at large companies (DHL, Fedex, D'Ieteren, etc.) and public service clients.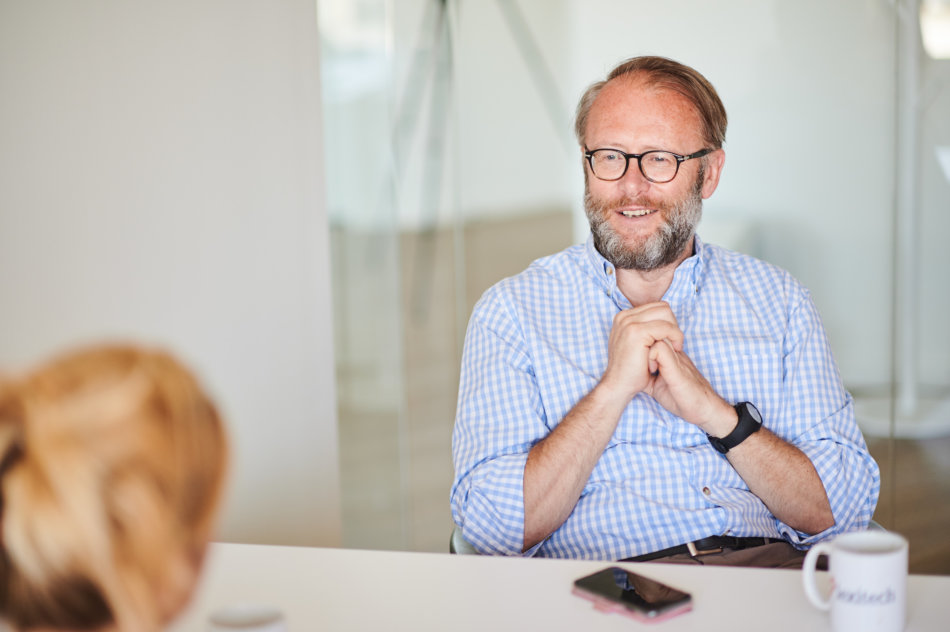 Based previously in Auderghem, Lexitech recently relocated to offices of 320 square metres on the 9th floor of n° 1 Avenue des Arts – right in the heart of the Madou city centre area, with its many handy urban features, including metro links and restaurants, etc.
The view out over Brussels from the 9th floor is breathtaking, but in the beginning not every agreed that the offices looked as good…
"There was lots of very dark wood everywhere – a bit like one of the sets from Mad Men," recalls Geert Vanderhaeghe wryly. But this retro-look ambiance was all before he commissioned Alternativ to provide a complete design and refit for his business offices.
After all, who these days would want to work in an office as grey as a leaden sky in Brussels on a rainy Monday? No one!
Little by little, fusty old traditional offices everywhere are being transformed into creative working environments that meet the needs of everyone working there, while providing access to the latest information and communication technologies.
Two unwelcome guests
Earlier in the year, with the redevelopment plans for the offices all nicely in place, Alternativ was ready to start work. Everything needed attention: from floor to ceiling, including electrics, installing new walls and partitions – and so much more. Then two unwanted guests threw a spanner into the works: a problem with the road outside, which was resolved without impacting the timing, and… Covid-19!
"I really liked Alternativ's energy," enthuses the Lexitech GM, "as well as its no-nonsense willingness to go ahead with the job, despite the health crisis. It was a well put together project, carried out smoothly and within the deadline." "The work was initially scheduled for completion by mid-April, so we could have moved in by the end of that month," he continues. "Instead we opted to wait until the end of lockdown. But now I have brand-new offices where finally I can be proud of receiving clients – which was far from the case before," he concludes, again quickly emphasising the professionalism and efficiency of the teams at Alternative – not to mention coming in on budget.